Thus far in our blog series, we've focused on who anime viewers are and we have seen them be a diverse, global audience. And we've looked a bit at their anime genre preferences. But what about when they are not watching anime?
For one, anime viewers seem to be music lovers. This may not come as a surprise to AMV fans, but this engagement with music carries implications for music streaming platforms and live events alike.
Looking at their online activity in the US, music streaming platforms such as Spotify or Pandora are far more popular among anime viewers than non-viewers. Spotify is still building out its anime playlists to their fullest potential, having already done the hard work of licensing so many top anime songs to stream on the platform. Spotify sees anime opening and ending tracks crop up in the US Viral Top 50 Chart regularly.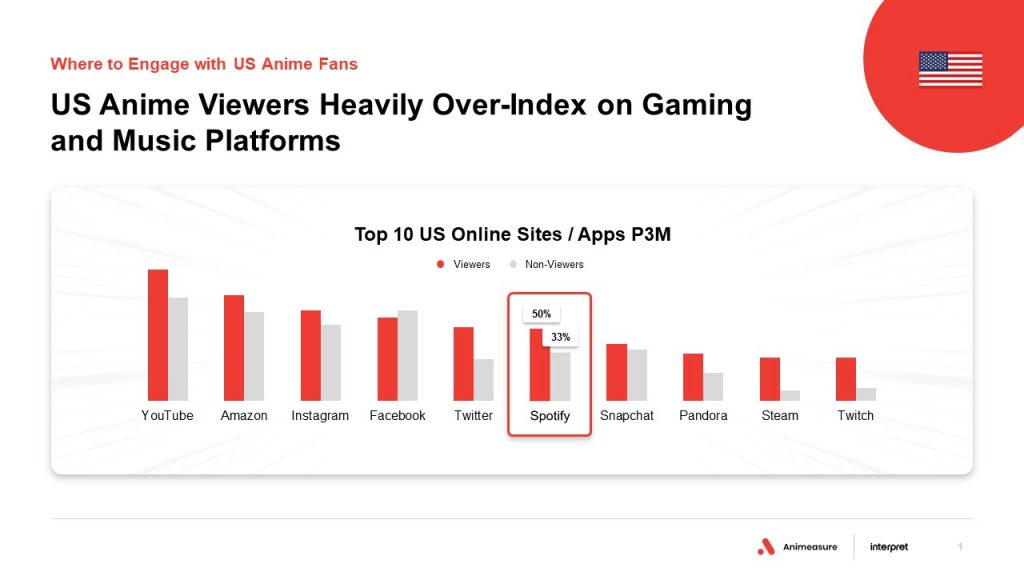 Of course, music streaming platforms like Spotify or Pandora are not the only places where anime viewers over-index. They are also far more likely to be found on Steam or Twitch. In a future blog post, we plan to explore anime viewers as gamers, but Spotify is a great place to find anime viewers and it is also a place where there is a lot of untapped potential.
For event organizers, if a Japanese musical act is coming to perform at your convention—what could you do to circulate a Spotify playlist of the band's music, to help fans get hyped and anticipate the event? To help them find deep cuts, familiarize themselves with the band's discography, and enjoy the full-length performance even more? What are ways music streaming platforms could better cater to anime viewers? What other ways could anime viewers' love of music be leveraged to enhance their experiences as both anime and music fans?
Thus far in our blog series, we've focused on who anime viewers are and we have seen them be a diverse, global audience. And we've looked a bit at their anime genre preferences. But what about when they are not watching anime? For one, anime viewers seem to be music lovers. This may not come as a surprise to AMV fans, but this engagement with music carries implications for music streaming platforms and live events alike. Looking at their online activity in