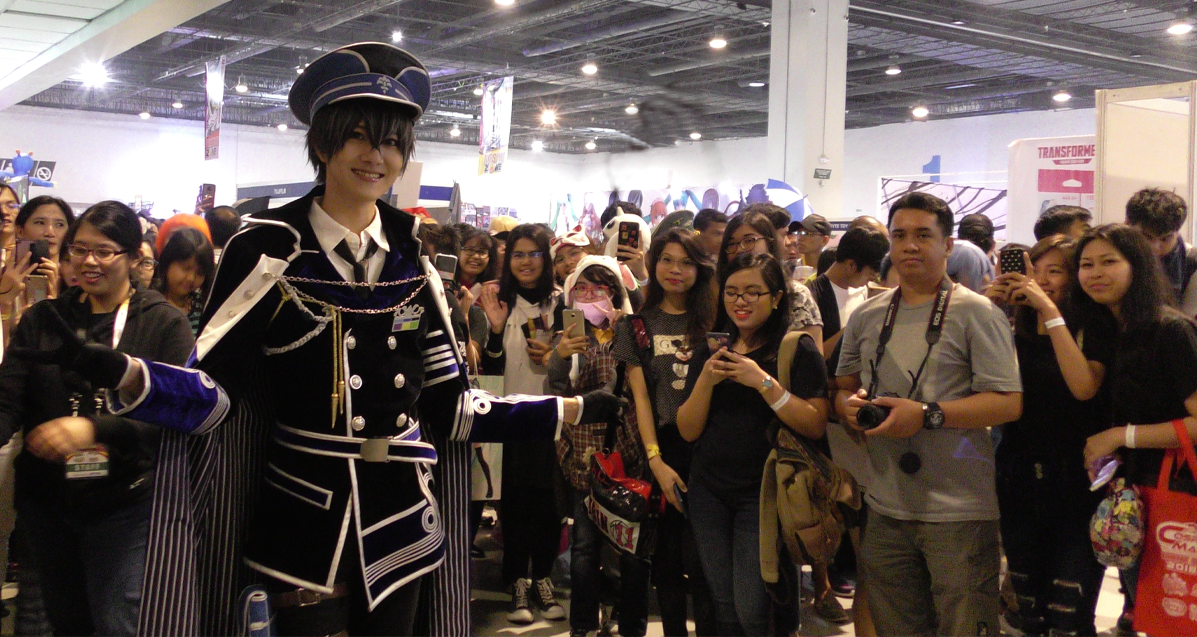 Believing in the Fans Invigorates International Growth of Otome Games
Hiroto Kuramasu of CYBIRD brings a fan-focused mentality to his work as a producer, official cosplayer, MC, and Vtuber talent.
My Journey is a series of interviews with industry leaders examining their career paths, influences, and goals for the future.
When asked about the appeal of otome games, Mr. Kuramasu, who is known to fans as simply "Hiroto," thinks fans "enjoy the romance with their favorite characters," but has a "feeling that Ikémen Series games are more than just a game to them." For those who may not be familiar, the otome game genre (otome literally translates to "maiden") consists of story-based games geared towards women. Otome games are typically visual novels or simulation games, often focusing on building relationships with one of several male characters. That being said, otome games can have non-romantic storylines as well. While otome games are largely a single-player experience, producer Mr. Kuramasu has seen firsthand how a shared love of CYBIRD's games brings fans together as friends both online and through events. Fans send him letters with stories about how CYBIRD's games and physical events have influenced their lives. With many people isolated from friends and families due to the pandemic, fans shared heartwarming stories about how they found comfort and connection through the Ikémen series games. Mr. Kuramasu's guiding principle is to focus on the fans and be close to them – a goal that has not changed since he first started at CYBIRD in 2015.
From Square Enix to CYBIRD
Growing up as a fan of anime and video games, a love of Final Fantasy and Kingdom Hearts initially led Mr. Kuramasu to a role at Square Enix. With study abroad experience in the U.S., he brought bilingual abilities to the localization team. Around this time, he came across an opening at CYBIRD for a role in overseas business development. While he had not heard of CYBIRD or the Ikémen Series at the time, Mr. Kuramasu was familiar with the otome game genre as a fan of the Uta no Prince-sama series. (In fact, his first cosplay was Otoya Ittoki from Uta no Prince-sama) Although he initially hesitated in leaving Square Enix, Mr. Kuramasu remembered that his goal was not to just work for a big company or IP but to find a role where he could take on new challenges for the sake of his career. With that in mind, Mr. Kuramasu joined CYBIRD in 2015.
As a producer, Mr. Kuramasu's involvement varies across titles. For some of the older titles, he works solely on high-level responsibilities such as budgeting and strategic planning. For newer titles such as Ikémen Prince, he also handles schedules, social media planning, and other tasks such as art development and approvals. Mr. Kuramasu is always looking for new and innovative approaches to CYBIRD's games. When creating art assets for Anime Expo and other international events, Mr. Kuramasu implemented a more vivid and defined look, as opposed to the pastel palette and soft style in use for years. Generally, Mr. Kuramasu handles the first phase planning process for each game title before handing it off to his team to manage so that he can focus on new titles and branding projects.
Love that Transcends Borders
When Mr. Kuramasu first joined CYBIRD in 2015, their overseas business was much smaller than it is today. In fact, a few months after starting his new role, Mr. Kuramasu was informed that CYBIRD might discontinue its overseas expansion efforts. Determined to make the Ikémen Series turn a profit, he and the team utilized various strategies to release and advertise the games internationally.
Taking note of what competitors were doing, Mr. Kuramasu sought to increase exposure and awareness of the Ikémen Series brand by participating in Anime Expo in 2016 and meeting directly with fans. He pitched the idea to his superior four times before finally securing approval.
With no idea what to expect, Mr. Kuramasu and his team put together the entire booth design and activities. Drawing from his personal experience, Mr. Kuramasu also took on the role of official cosplayer to entertain people and act as the "mascot" for the CYBIRD booth. The fan response was far beyond their expectations. Situated in a modest 200 sq ft booth space, they rationed their merchandise inventory each day and rushed to print additional flyers at the venue's business center.
In the fall of that same year, Ikémen Series' overseas business finally turned a profit. To continue this momentum, CYBIRD made plans to distribute a new game in English and promote it heavily at Anime Expo 2017. Mr. Kuramasu returned as the official cosplayer and introduced the "kabedon corner" at the suggestion of a teammate. Anime Festival Asia organizers took notice and invited both Mr. Kuramasu and CYBIRD to participate in Anime Festival Asia the following year, leading to the creation of the "Ikémen Series World Tour 2018."
Events soon became a key component of CYBIRD's marketing strategy. The modest 200 sq ft space at Anime Expo 2016 quickly grew to 1200 sq ft in just three years. At Anime Expo 2019, CYBIRD's presence was comparable to Kadokawa, Funimation, and Crunchyroll, and even bigger than their competitors' booths. Stage events drew a sizeable crowd as well, filling the booth with eager fans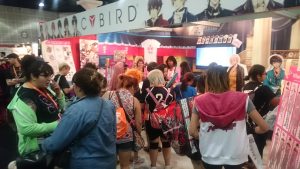 Under the Same Sky
In the summer of 2019, Mr. Kuramasu launched CYBIRD's very own Vtuber Aimu Sora, along with Youtube talk show, Sora's Senpai Club. Previous guests include voice actors Tetsuya Kakihara and Megumi Ogata, as well as singer Kumi Koda and music group Garnidelia.
Taking cues from Japanese character culture such as Hatsune Miku and Mario, Mr. Kuramasu decided to create a VTuber character that would be loved by fans. He pitched the character design project to Utako Yukihiro, the artist behind Uta no Prince-sama and B-PROJECT, not knowing if she would accept. Intrigued by the overseas focus, Yukihiro-sensei took on the project. Mr. Kuramasu went through many revisions to ensure that Yukihiro-sensei's design was translated accurately in the 3D model. When developing the ideas for Sora's design, Mr. Kuramasu wanted a colorful look that would stand out on-screen at an event and be reminiscent of idol characters without looking too much like an idol. With that in mind, Yukihiro-sensei looked to theme park uniforms as inspiration for Sora's outfit. To make Sora's silhouette distinct, his final look evokes Sailor Moon's signature pose.
The idea behind Sora's Senpai Club started with a simple idea of wanting fans to know more about the wonderful people involved in anime such as voice actors, 2.5D stage actors, and artists. Even with the developments in anime distribution around the world and extensive availability of subtitled shows, Mr. Kuramasu recognized the language barrier that still existed with entertainment media. In Japan, he could simply read about voice actors in magazines and see them on television, but that is not the case for many fans outside of Japan.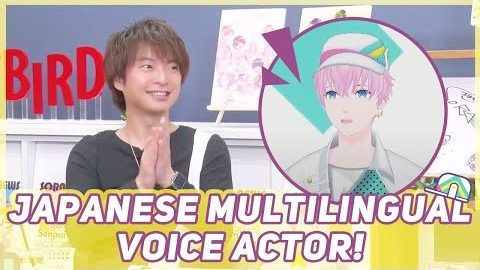 In Japan, otome games are often made with the voice actor's popularity in mind, but Mr. Kuramasu finds that voice actors are not the key to promoting games internationally. Instead, the visuals or the story tend to draw people in. "If the Japanese market is focusing on voice actors," says Mr. Kuramasu, "then we must make them popular overseas too." Although the purpose of Sora's Senpai Club is to share how precious these voice actors and talents are with fans around the world, the bilingual format of the show makes it accessible for Japanese viewers as well. Currently, about half of the viewership is from Japan, however, nearly all the comments are in English. Mr. Kuramasu observed Japanese fans seem to be a bit hesitant or shy to engage as a result. One fan even wrote, "There are a lot of English comments. Is it OK to comment in Japanese?" To which Mr. Kuramasu says, "Of course!" After all, a key message of the I'm Sora Project is that we are "under the same sky."
While Mr. Kuramasu cited lack of experience with voicing a character before as one of his biggest challenges with the project, it has also brought a relatable and endearing quality to his performance as Sora. Nowadays, he has gotten fairly used to being Sora and producing the show. As both the producer and the talent behind Sora, Mr. Kuramasu often gets surprised reactions from guests. "The guests really like the project," he says. Since not many shows are made for fans outside of Japan, the experience is unlike anything they have ever done before.
For the Fans
What excites Mr. Kuramasu most is seeing fans' reactions. Whether online or in-person, the excitement that fans have for the Ikémen series and other Cybird properties gives him the motivation to continue creating new and memorable experiences for them to enjoy. He also hopes to eventually reduce the time it takes to release English versions of CYBIRD's games.
Throughout the course of his career, Mr. Kuramasu is proud that Ikémen Series has continued for as long as it has. As a result of Ikemen Series' success, he has also been able to bring other Cybird properties to the English market such as A3! From being on the brink to being with Cybird for 6+ years, he is extremely grateful to all the players and fans. Being able to meet them at events like Anime Expo and receiving heartwarming messages online makes all the time and effort worthwhile.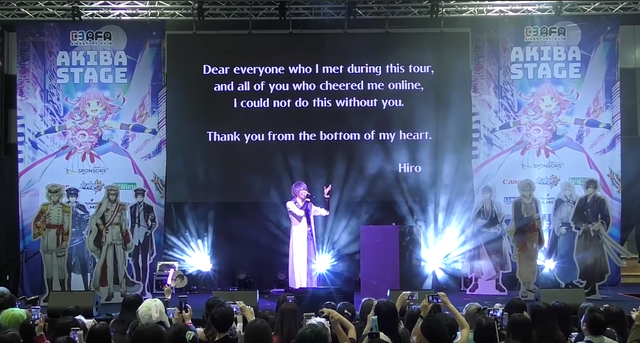 Looking forward to the future, Mr. Kuramasu has big plans for 2022, which will be Ikemen Series' 10th anniversary. No doubt, these plans will require him to continue growing and developing a team that is aligned with his vision for the future of CYBIRD's overseas market. Working together with a great team and putting these plans into reality energizes Mr. Kuramasu and his team at CYBIRD, resulting in a wonderful experience for the fans.