My Journey is a series of interviews with industry leaders examining their career paths, influences, and goals for the future.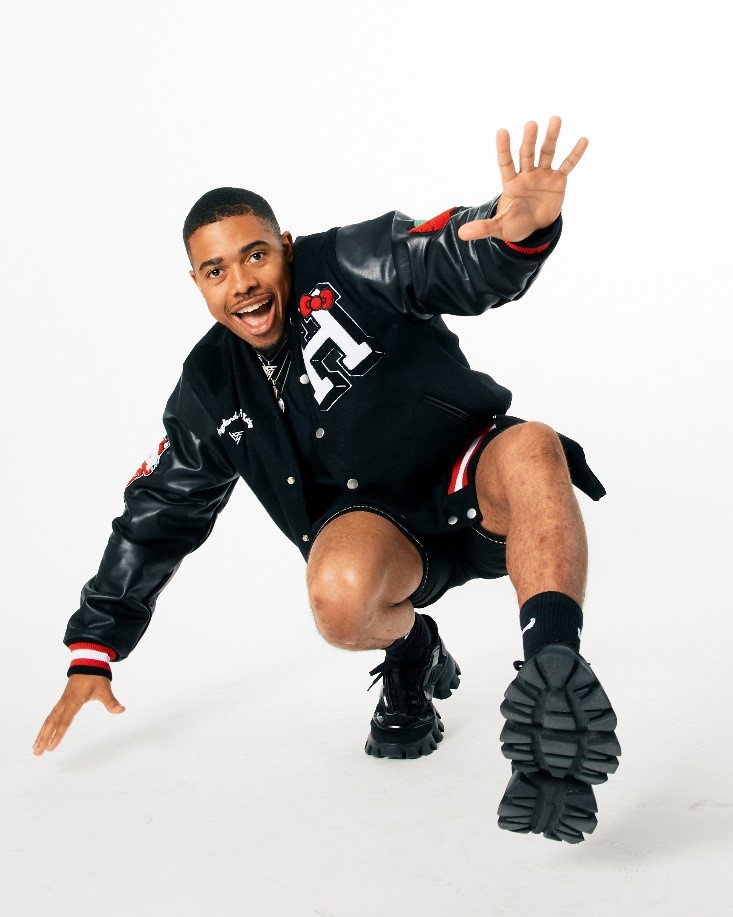 In October 2021, HYPLAND drew swathes of Yu-Gi-Oh fans to West Hollywood for a pop-up shop that commemorated the launch of their collaboration with Konami. Owner and creative director Jordan Bentley feels especially proud of the collection calling it a full circle moment. "I used to watch it every single day growing up…I was into Yu-Gi-Oh before Naruto." He reflected on the experience saying, "Working with KONAMI as a company was so crazy…For them to be excited about it was just a super surreal moment."
Since starting a clothing brand in 2010 as a school project at the age of thirteen, Mr. Bentley has grown HYPLAND into a trailblazer in the anime streetwear scene. It all started in eighth grade, when Mr. Bentley received a silkscreen printing machine as a gift for Christmas, which motivated him to be creative, to draw a lot, and to learn how to produce clothing. Although he admitted that he never could quite figure out how to use the machine to its full extent, it represented a symbol of what could be. From a young age, Mr. Jordan always had an interest in art and drawing. Inspired in part by his love of anime and nurtured by his mother's support.
Anime: From Inspiration to Official Collaboration
In a Netflix video about his Yasuke collaboration, Mr. Bentley also talks about how he bonded with friends over anime when he was young, especially watching Dragon Ball Z.
While Mr. Bentley watched classics like Pokemon, Dragon Ball Z, and Yu-Gi-Oh, it was FLCL that led to a deeper interest in anime. FLCL was unlike anything he had ever seen before and expanded his understanding of what anime could be and how different it was from American cartoons. In addition to connecting to how cool the show was overall, Mr. Bentley was fascinated by the art style and color design. From there, he explored the rest of the Adult Swim programming block and became a fan of Inuyasha – collecting everything from the trading cards to keychains to figures.
Long before delving into official collaborations, Mr. Bentley drew inspiration from his love of anime in creating designs for HYPLAND. Then, in 2017, he dreamt about launching a successful Dragon Ball Z collection. Immediately after waking up from this dream, Mr. Bentley started drawing a variety of Dragon Ball Z-inspired designs. To his dismay, however, he was advised to stop lest he receive a cease-and-desist letter and harm his chances of doing any kind of collaboration project in the future. From there, Mr. Bentley sought a legal approach and got connected with VIZ Media. They tested the waters with a Bleach collection which was released fall 2018 at ComplexCon and later showcased at Anime Expo 2019. Mr. Bentley considers the Bleach collections a turning point for HYPLAND. Since then, they have continued their partnership with VIZ Media with Hunter x Hunter, Naruto, and Inuyasha collections. HYPLAND often hosts pop-up shops and in-person activations to promote its releases, something that Mr. Bentley considers "necessary for streetwear," but had not really been done in the anime space before.
When asked about any challenges he faced when working with licensors for the first time, Mr. Bentley noted an initial learning curve. For the first six or seven years of running HYPLAND, he did everything on his own with no creative limitations. Once he started working with licensors, he became aware of all the different parameters and figured out ways to be creative within that realm to create products that customers will like and will be true to HYPLAND.
Evolution of HYPLAND: Going Beyond the Brand
In recent years, HYPLAND has expanded its product offering beyond just clothes with rugs and tapestries. Mr. Bentley considers HYPLAND a lifestyle brand but stated, "we make clothes first." To him, a lifestyle brand is any brand that can integrate into multiple sections of people's lives—from what you wear every day, to what you see at home, to what you have in your car. "It just depends on what your lifestyle is." With all that in mind, lifestyle products such as home goods are somewhat of a fun side project that Mr. Bentley likes to do for himself and hopes to explore further in the future. He enjoys interior design and cited BAPE as an inspiration saying, "they have so many cool accessories and things beyond just making cool t-shirts."
While Mr. Bentley and his team are currently developing several projects that could not be disclosed just yet, his current dream collaborations would be with Pokemon and Aaron McGruder's The Boondocks.
For the future of HYPLAND, Mr. Bentley sees it as a vessel bigger than just clothing. While clothes are HYPLAND's "bread and butter," he wants to be able to connect with people on a deeper level. "You can go to the mall and buy any cool shirt," he explained, "but when you actually go somewhere, it's like, 'this is something special to me because I had a special experience.'" Mr. Bentley hopes to expand in-person activations that go beyond just fashion and integrate with other cultural aspects such as music, art, or food. "There are so many different lanes that people can kind of connect with one another on through their love of anime and just culture overall," he explained, "There's so many different inspirations that can be pulled and blended together, so I really want to kind of continue to expand within that creative space." He recognizes the opportunity for clothing to relate to a special experience and become something cherished. "When you see someone else wearing that thing, you know that there's a shared love…It's the 'if you know, you know.' You can talk on different levels with people. It's not just about what you're wearing."
Lifelong Learning & Following Your Passion
In addition to HYPLAND, Mr. Bentley has dabbled as a content creator with his Youtube vlog as well as a participant in reality shows such as Netflix competition series The Floor is Lava and HBO MAX's Sweet Life: Los Angeles. Ultimately, Mr. Bentley considers these forays in the entertainment industry to be side gigs that take time away from his creative work on HYPLAND – his primary focus.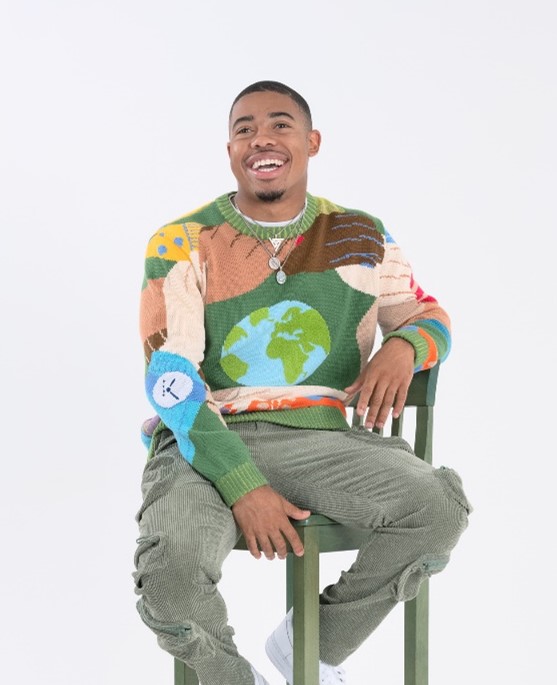 Mr. Bentley feels that his time is "best spent being creative and that's the God-given talent" that he has. His advice for aspiring designers is to be consistent and try not to ask opinions of non-creative people. "If you really believe in your creative vision, you've got to do what's best for you." At the end of the day, he says it's important to trust yourself and your creative vision. That's why you're getting in the creative space.
By no means does this mean that aspiring designers should not ask for any advice. In fact, Mr. Bentley cites RIPNDIP owner Ryan O'Connor as an influential mentor figure. In high school, he sent "a hundred" emails to the growing streetwear brand RIPNDIP in hopes of learning from them or working with them. Eventually, he got an email back asking if he could help with a project which consisted of sanding wood to set up a showroom. From there, he was tasked with doing a little bit of whatever needed to get done, which generally had nothing to do with designing clothes. While he did not particularly enjoy his actual internship experience at the time, the most valuable things he learned were how to use illustrator as well as the importance of design and branding. Even after he stopped working at RIPNDIP, Mr. Bentley maintained contact with Mr. O'Connor and their friendship developed into a mentor-mentee relationship. Mr. Bentley has incorporated his observations of how RIPNDIP is operated and feedback from Mr. O'Connor to help inform his own decisions with HYPLAND.
When it comes to creative decisions, however, Mr. Bentley believes that "the vision you have for yourself…needs to be for yourself only." Other people may inadvertently project their insecurities onto you, their opinions can end up being distracting, and that can cause you to second-guess yourself.
His last piece of advice: never stop learning. "There are so many resources out there…It's important to maintain a student [mentality] and keep doing what you love."
While Mr. Bentley does not especially recommend going into the fashion industry for the money because of the many ups and downs, he says "if you truly love something, just keep following your passion and always remember why you're doing something." As for Mr. Bentley's thoughts on HYPLAND, "it's dope to be able to support your family and friends with a business that you kind of started as a hobby."
In October 2021, HYPLAND drew swathes of Yu-Gi-Oh fans to West Hollywood for a pop-up shop that commemorated the launch of their collaboration with Konami. Owner and creative director Jordan Bentley feels especially proud of the collection calling it a full circle moment. "I used to watch it every single day growing up…I was into Yu-Gi-Oh before Naruto." He reflected on the experience saying, "Working with KONAMI as a company was so crazy…For them to be excited about it was
The COO of GeeXPlus seeks to change the status quo of the Japanese anime and manga industry's global marketing strategies. My Journey is a series of interviews with industry leaders examining their career paths, influences, and goals for the future. If you are a fan of popular anime Youtubers The Anime Man, Gigguk, or CDawgVA, you may have seen Meilyne Tran pop up in one of their videos or guest on Trash Taste Podcast (which she also produces). While the talent often