There's no doubt that anime consumption has become a worldwide phenomenon. Its rise has been accompanied by a boom in streaming services that offer a selection of anime, many of which secure the exclusive rights to a series. Netflix is no stranger to securing exclusive rights, and over the past several years they've developed an extensive collection of "Netflix Originals," titles to which they hold exclusive streaming rights in certain regions in order to bring in traffic and new subscribers.
BudgetDirect conducted a study on the performance of Netflix Originals by identifying the most-searched Netflix Originals in every country from July 2019-2020, then divided the results by genre in order to isolate the top picks across each genre. We've compiled the data solely on Netflix Original anime and identified unique observations about the reception and consumption of anime globally.
Key Findings:
The Seven Deadly Sins ranked first in nearly 60% of countries worldwide.
Beastars dominated South America, ranking first in all but two countries (Guyana and Suriname)
Castlevania ranked first primarily in European and Eurasian countries.
Top 3 Most Searched Netflix Original Anime
The Seven Deadly Sins – top search in 125 countries
BLAME! – top search in 34 countries
Beastars – top search in 26 countries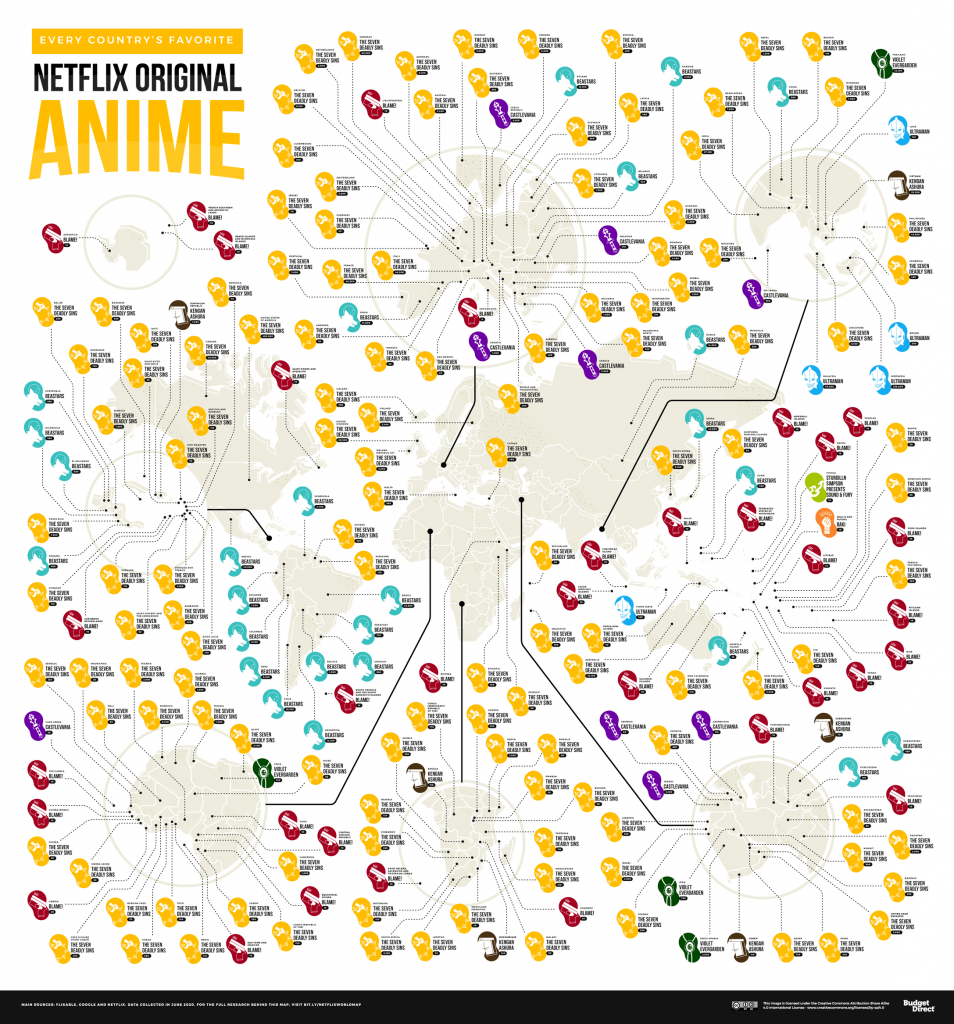 Other Netflix Original Anime Searches
Castlevania – top search in 9 countries

Cape Verde, Armenia, Turkey, Azerbaijan, Croatia, Greece, Moldova, Sri Lanka, and the Czech Republic

Kengan Ashura – top search in 6 countries

Angola, Mozambique, Dominican Republic, Vietnam, Yemen, and Uzbekistan

Ultraman – top search in 5 countries

Laos, Brunei, Malaysia, Indonesia, and Timon Leste

Violet Evergarden – top search in 4 countries

Thailand, Iraq, Saudi Arabia, and Libya

Baki – top search in 1 country
Sturgilln Simpson Presents Sound & Fury – top search in 1 country
Source: Budget Direct – Every country's favourite Netflix Original (September 10, 2020)
There's no doubt that anime consumption has become a worldwide phenomenon. Its rise has been accompanied by a boom in streaming services that offer a selection of anime, many of which secure the exclusive rights to a series. Netflix is no stranger to securing exclusive rights, and over the past several years they've developed an extensive collection of "Netflix Originals," titles to which they hold exclusive streaming rights in certain regions in order to bring in traffic and new subscribers. BudgetDirect