In the past year since more and more events have explored online formats, organizers have creatively utilized a variety of platforms to create virtual event experiences in 2D, 3D, and VR. While a physical event can never be fully replicated online, virtual experiences can be a fun way to engage with attendees who are digital natives accustomed to spending time online and playing games. In this article, we outline some of the popular ways that events can create an event experience in a virtual world.
Social VR Platforms: VRChat & AltSpace
VRChat and AltSpace are free-to-play social VR platforms that allow players to interact with others as fully customizable 3D character models and create their own worlds. With open-source software development kits, the possibilities are endless. Within VR chat, players can meet, talk, and play games with one another. In addition to hangouts and games, AltSpace offers tools geared toward event hosts such as floating web browsers, raise hand functionality, and FrontRow, a feature geared toward large scale events that allow tens of thousands of viewers to attend a meeting or watch a performance. Both platforms are accessible with or without VR hardware.
While platforms' SDKs are free for to use, building completely custom content such as worlds or avatar items does require 3D modeling experience in Unity or Blender. AltSpace has several worldbuilding kits and pre-made items created by other community members which make world building easier no matter what level you are at.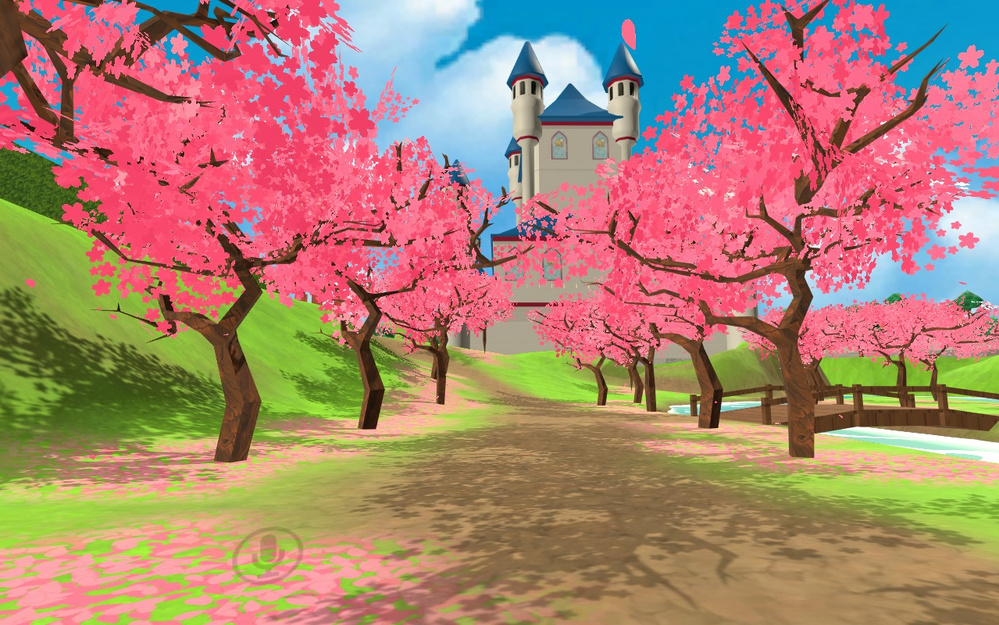 Events have taken different approaches to utilizing VR Chat over the past year – either recreating their venue (MAGFest's MAGLord), creating a brand-new experience (DoKomi's Creamy Island), or blending the two by augmenting a real-world location with fantastical elements (SXSW Virtual Austin World). Other events that have utilized VRChat include Anthrocon and virtual-first Comic Vket (organized by HIKKY, Co; not associated with Comic Market). DoKomi's VR experience Creamy Island took 6 weeks to produce and had 4300 visitors over the weekend. DoKomi opted to keep the world active for attendees to use as a hangout space throughout the year.
Events hosted on AltSpace include 2020 Paris Fashion Week and BRCvr, a volunteer-supported art event and recognized Universe of the Burning Man Multiverse.
Depending on the event strategy, the worlds can be taken down once the event ends or remain active as a place for fans to meet and connect throughout the year.
Pros:
Free to use.
Established community of users.

VRChat's user base grown from 8000 concurrent users on Steam in July 2019 to 15,500 in 2020, not including users playing through headsets such as Oculus. [Source]

The proliferation of anime-style avatars in VRChat shows an overlap between audiences.
AltSpace's FrontRow feature offers limitless audience capacity.
Challenges:
Access limited to 30-80 (VRChat) or 50 (AltSpace) people in a given space/world.
Download required.
3D modeling skills needed for extensive customization.
Minecraft
Minecraft is a sandbox video game that has been around for over a decade and is one of the best-selling video games of all time, with 200 million copies sold and 126 million monthly active users as of 2020. With both single-player and multi-player, along with several different game modes, players can experience the open world in different ways. Gameplay mainly consists of exploring the world, collecting resources as well as building and crafting things to survive. Game modes include survival, creative, adventure, spectator.
The first thing to consider when opting to build a Minecraft server is which edition to use: Java or Bedrock. Java is accessible on any computer (PC, Mac, or Linux), whereas Bedrock allows crossplay between PC, Playstation, Xbox, Switch, and mobile. While Bedrock is available on more platforms, the Java edition can accommodate more players on a given server and has more customization capabilities, including the ability to import images as well as a plethora of free mods to enhance your builds. Java worlds can be converted into Bedrock via third-party tools but will likely still require some tweaks and updates after the conversion.
Events with Minecraft experiences include San Japan, Anime Central, and Anime Milwaukee (AMKE). When creating their Minecraft server, the AMKE team took special attention to not only the visual elements but also the spatial accuracy of the convention center and its surrounding area. To accomplish this, they referenced photos and video in conjunction with Google maps and Google Earth's measurement tool. AMKE's team of six people across different departments worked together to create their Minecraft server in the span of about a month. The reaction from attendees made the efforts worthwhile, with over 200 visitors throughout the weekend. Attendees explore the recreation of the convention center and its surrounding area and participated in quests which led them to discover a variety of easter eggs such as NPCs dressed as cosplayers and members of the AMKE team.
Afterward, the Minecraft server can be kept active year-round for a small server hosting fee for players to continue visiting and creating, taken down, or released to fans to use on their own servers. Post-event, AMKE streamed gameplay of their Minecraft server via Twitch after and left it up for a few months after the event so that players could continue to visit and build in.
Pros:
Established community of players.
Accessible world-building tools.
Low-cost, generally $20-30 for a copy of the game.
Limit to the number of concurrent players is determined by RAM capabilities of your computer or outsourced to a server provider for a monthly fee. For 20-30 concurrent players, server costs are generally minimal (approximately $15-25/month)
Cons:
Each participant must purchase and download the game.
Slight learning curve to creating and troubleshooting mods/plug ins.
Minecraft style is blocky and pixelated.
Java edition is not available to console or mobile players.
Bedrock edition has more limited customization options
2D & 3D Event Software Platforms
With the proliferation of virtual events, many platforms offer common features such as video, chat, registration, schedule pages, and attendee lists. 2D event platforms such as vFairs and 6Connex use imagery that mimic real-life event venues for the web navigation experience instead of a more traditional website design. Primarily by industry trade shows and career fairs, these platforms typically charge a per event flat fee or based on an annual contract. Filmocracy and Kumospace offer a 2D room layout that attendees can navigate like a game and simply "walk up" to another attendee or join a table to connect via audio or video chat. Filmocracy is specifically geared toward film festivals and offers subscription plans to encourage attendance to multiple events hosted on their platform.
3D platforms such as Breakroom, MootUp, VirBELA, and Engage offer true immersive spaces and avatar-driven free movement within a virtual space. With the avatar element, they are more akin to VRChat or a game, but they cater to events with ready-made templates and features geared toward exhibitors, speakers, and more. Many of these platforms offer a monthly subscription rate and may also offer VR device compatibility. In addition to events, these platforms are utilized by corporate clients for product launches, training, and teambuilding.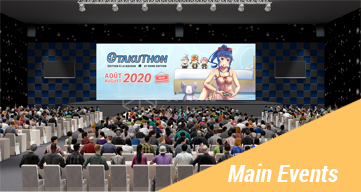 Otakuthon's at-home edition in 2020 utilized vFairs, while SuperCrowd developed a proprietary online multiplayer game-style platform to power their virtual MAG Erfurt Online. SuperCrowd's X5 Framework also has avatar-driven movement but operates more like a 2D multiplayer online game.
Pros:
No download required; browser compatible.
Customizable templates.
Cons:
Generally more costly (except for Kumospace which has free options)
Limited design options outside of templates.
Requires hands-on configuration.
Conclusion
Whatever platform you decide to use, it will take time to customize and configure. Free or low-cost options like VRChat and Minecraft are generally more "do-it-yourself," while off-the-shelf products like vFairs and 6connex typically have a set template that you can only do so much with. As in-person experiences return, what role will these platforms have in future event strategy? Will they be another opportunity for engagement during an event's off-season, or will they fall by the wayside as a relic from the COVID-19 pandemic?
Special thanks to Andreas Degen (DoKomi), Eric, Joey, and Jinnie McManus (AMKE), and Amanda Arizza (Otakuthon) for sharing about their experiences with VRChat, Minecraft, and vFairs respectively.
In the past year since more and more events have explored online formats, organizers have creatively utilized a variety of platforms to create virtual event experiences in 2D, 3D, and VR. While a physical event can never be fully replicated online, virtual experiences can be a fun way to engage with attendees who are digital natives accustomed to spending time online and playing games. In this article, we outline some of the popular ways that events can create an event
At Interpret we interview over 9,000 Americans each and every quarter as part of our New Media Measure syndicated tracking study. One of the questions we ask each quarter is, from a list of about 20, which TV genres (among traditional TV viewers and Streaming viewers) have you watched in the past week? The vast majority of genres are mostly stable. For example, Comedy is a genre as old as time – and a genre that does not typically see a