We are pleased to welcome Ben Applegate to Project Anime: Global 2020! He will join Kristen McLean (Director of Business Development, NPD Bookscan) and Dallas Middaugh (Co-Founder/Executive Editor, Mangamo) as they examine data, unpack the power of the fan machine, and discuss new opportunities.
Anime, Manga, and Streaming Video-on-Demand – Unpacking the Power of the Fan Machine
As U.S.-based anime/manga fanbases growing rapidly thanks to video streaming, many entertainment, publishing, and toy companies are looking to leap into the industry. NPD Entertainment's Industry Analyst Kristen McLean and Nonlinear World's Anime/Manga expert Dallas Middaugh will be giving a first look at some cutting edge data on how anime and manga are driving fan engagement in the U.S., followed by an open discussion about the growing opportunities for content creators and IP holders in the U.S. market.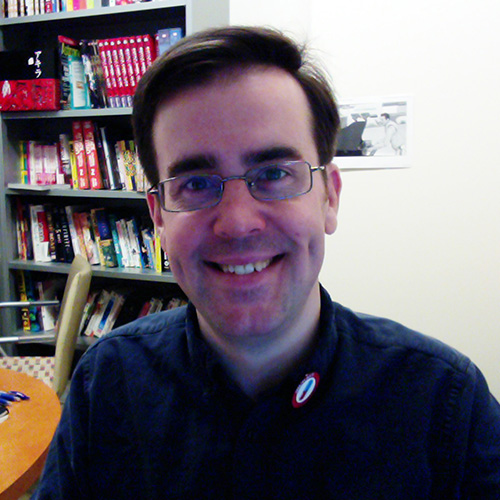 About Ben Applegate
Ben Applegate has been working in English-language manga since 2007 as a translator, editor, and publishing professional. In his capacity as director of publishing services at Penguin Random House Publisher Services, he has managed publishing, editorial, and production work for the Kodansha Comics print program since 2015. Prior to that, he was senior editor on the Kodansha Comics team. He lives in Peter Parker's hometown of Forest Hills, New York, with his wife Winnie and two superb cats.
---
Project Anime: Global 2020 will take place virtually on November 17-18 and can be attended from anywhere in the world. With a theme of "Evolving with the Events Industry," the conference will feature two uniquely-curated programming tracks, one geared towards event organizers and another aimed at industry professionals. As the landscape of the industry changes rapidly in response to current events, events and businesses have been compelled to adapt accordingly. This has given rise to new uncharted ventures and opportunities, including virtual/hybrid events and unique digital engagement. Learn more about speakers & panel information by visiting the Project Anime: Global 2020 page.
We are pleased to welcome Ben Applegate to Project Anime: Global 2020! He will join Kristen McLean (Director of Business Development, NPD Bookscan) and Dallas Middaugh (Co-Founder/Executive Editor, Mangamo) as they examine data, unpack the power of the fan machine, and discuss new opportunities. Anime, Manga, and Streaming Video-on-Demand – Unpacking the Power of the Fan Machine As U.S.-based anime/manga fanbases growing rapidly thanks to video streaming, many entertainment, publishing, and toy companies are looking to leap into the industry. NPD Entertainment's Industry
PROJECT ANIME RELEASES WHITE PAPER ON THE NORTH AMERICAN MANGA PUBLISHING INDUSTRY Manga revenue growth outpacing the general graphic novel category and print book sales Santa Ana, Calif. (May 24, 2019) – The Society for the Promotion of Japanese Animation (SPJA) in conjunction with Nonlinear World is pleased to announce the release of their first white paper on the current state of manga publishing in North America. First presented at Project Anime: Tokyo earlier this year, this marks the first time it has