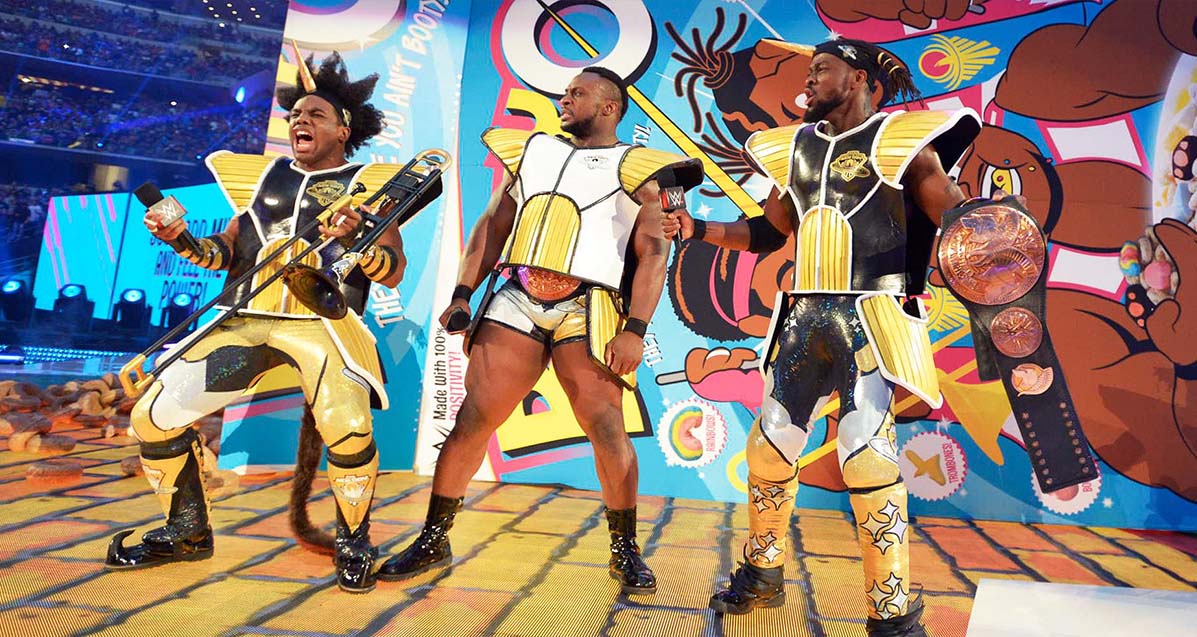 Can Crunchyroll and WWE Appease Both Wrestling & Anime Fans?
Header image: WWE tag team The New Day donned Dragon Ball Z inspired costumes for Wrestlemania 32.
In April 2021, Fightful reported that WWE had sold a multi-episode anime series to Crunchyroll. Between wrestling stars like Xavier Woods professing their love of anime to Forbes and Anime News Network examining the history of wrestling in Japan and its apparent influence on shonen anime tropes, there is no denying that there is some level of cross-over appeal between anime and wrestling.
Crunchyroll themselves had previously taken an inside look at the connection between anime fans and wrestling in a 2019 Youtube feature where they visited independent wrestling league, Hoodslam, on their anime night. In the feature, a participant says, "wrestling is real-life anime," and cites the "monster of the week" format of Hulk Hogan's faceoffs in the 80s against fighters like King Kong Bundy and Zeus.
While the overlap between anime and wrestling fans has been known for some time now, this announcement marks the first official partnership of its kind. Through this partnership, both WWE and Crunchyroll hope to gain exposure and awareness from each other's respective audiences. This leads to the big question: Can a WWE anime successfully appeal to both anime and wrestling fans? We reached out to the team at Scenic Fights to get some insight from both the anime and wrestling fan perspectives. Scenic Fights is a Youtube channel featuring martial arts practitioners breaking down fight scenes in movies, anime, and television. They previously examined fight scenes from Attack on Titan, Kengan Ashura, and Megalobox.
Target Audience
"WWE is no stranger to animating their beloved wrestlers," says Julio Perez, Founder and Creative Director of Scenic Fights. Camp WWE is a short-form series that imagines WWE stars as children at a summer camp run by Mr. Vince McMahon, the WWE CEO. Created by Seth Green, Camp WWE debuted on WWE Network in 2016 and has two seasons so far. Hulk Hogan's Rock 'n' Wrestling was animated and produced by DIC Animation City and first aired on CBS Saturday mornings in 1985. The series followed adventures of popular wrestling stars from the time, following cartoon archetypes typical of the era.
With the majority of Crunchyroll's audience between the ages of 13 and 34, it is likely that the anime series will be a more action-packed series geared toward a more adult audience compared to Camp WWE and Hulk Hogan's Rock 'n' Wrestling, which Perez felt were aimed mostly at children.
Fight Scenes & Story Telling
Regardless of whichever direction the project goes in, the fight scenes will be key. "One thing both anime and pro-wrestling fans love are well-choreographed fight scenes and great storytelling," says, Perez, "if it has both those elements then both parties will love it." The Scenic Fights team agreed that they would like to see real pro-wrestling maneuvers in animated form.
On one hand, a WWE anime could be competition-focused like Kengan Ashura or Baki: The Great Raitai Tournament Saga. Logan Lo, Producer and Star of Scenic Fights' Fight Scene Breakdown, notes that an anime that draws from the exciting storytelling akin to WWE's Monday Night Wars from the 90s could be a hit with both audiences. On the other hand, the drama of WWE personas lends themselves well to fantastical elements. Indeed, an action-fantasy story could be a suitable match considering the spirit of WWE and the potential for the anime medium.
Characters
WWE has a large library of amazing characters that "would work well in a fantasy setting," according to Perez. In particular, he names Alexa Bliss and The Fiend; fantasy elements can also build up a character like The Undertaker.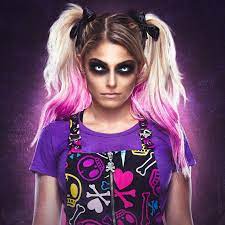 "There are so many amazing characters the WWE can draw from," echoes DeGrazia, "The possibilities are endless." Nick DeGrazia, Scenic Fights Co-Founder and Creative Director, imagines The Rock and the power of the Brahma Bull on a mission to overthrow The Undertaker and bring order back to the land. Along the way, The Rock fights and befriends The Ultimate Warrior, Stone Cold Steve Austin, and John Cena with his mystical "you can't see me" powers.
Chad Vazquez, Scenic Fights Producer and star of Fight Scene Breakdown, grew up during the Attitude Era of WWE. He related to Stone Cold Steve Austin's rebellious personality. In terms of anime, Vazquez likes relatable characters like Gearless Joe from Megalobox.
Between Rhea Ripley and Austin Creed dressing up as Dragon Ball Z characters and Aska's Jojo's Bizarre Adventure references, there are opportunities to leverage wrestling stars' love of anime as well.
The Crossroads of Anime & Wrestling
While the Crunchyroll and WWE partnership will be a never-before-seen project, wrestling has influenced anime since it was introduced in Japan in the 1950s. Perez also pointed out that the dMp arc in Kinnikuman (also known as Ultimate Muscle) was very similar to the World Championship Wrestling's (WCW) New World Order (nWO) storyline which debuted in 1996 where a group of unsanctioned wrestlers aims to "take over" and control the WCW in the vein of a street gang. The dMp leader Kevin Mask even sounds like original nWo member Kevin Nash.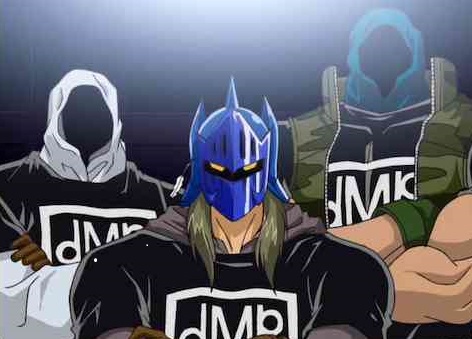 More recently, My Hero Academia: World Heroes' Mission seemed to pay homage to John Cena's signature pose which Cena acknowledged by sharing on Instagram.
Whichever direction Crunchyroll and WWE go in, a successful partnership will certainly require input from both sides as well as an understanding of what each audience enjoys about wrestling and anime, respectively.
Thank you to Julio Perez, Nick DeGrazia, Chad Vazquez, and Logan Lo from Scenic Fights for contributing to this piece.